Sale Mansion Alençon - 7 bedrooms
61000 - Alençon
---
DESCRIPTION
Ref. 4035: ELEGANT 17th C. LISTED MANSION IN ORNE.
The town of Alençon, prefecture of the Orne area, is located at the very edge of the famous Parc Naturel du Perche, a symbol of lush countryside and protector of an authentic terroir. Thanks to its location in the heart of the town, this property benefits from the immediate proximity of most administrative, economic and commercial infrastructures.
At the gateway to the basilica and the twice-weekly market, in the heart of pedestrian streets allowing
daily life on foot (shops, train station, hospital, schools, colleges, high schools) less than 10 minutes away.
Wouldn't this be a "little piece of countryside in the city"?
Motorway and rail access is close by and constitutes a real communication crossroads for the Paris-Brittany/Rouen-Touraine routes.
Located in the pedestrianised historic centre near the castle of the Dukes of Alençon, which provides it with protection, this imposing mansion is enriched by an interior garden and outbuildings ensuring privacy and total security.
Perfectly suited to a large family, this property will also offer the exceptional potential sought after by a liberal profession, craftsman or hotel owner.
The first known record of the property dates from 1627, during the Huguenot period of the district, with, following in the course of the 17th-18th-19th centuries, owners and guests representing all the leading Alençon families (nobility and bourgeoisie) covering the political, economic and cultural fields of the town, until 1888 and the arrival of a couple who left the house its current name in books.
The street of this private mansion is mentioned by Balzac in his novel "La vieille fille", suggesting that these premises may have served as a model for him...
The history of the house has been patiently traced from the first stone to the present day, and recorded in a beautifully illustrated document.
In 2018, the current owner acquired this private mansion, planning to bring all the energy necessary to magnify the place, under the watchful eye of the architect of the buildings of France. The desire to pass on the family heritage has prompted him to pass on the torch.
This private mansion is the result of three centuries of enrichment of its general structure, now completed, in the form of a main building with a corner return highlighting a beautiful carriage entrance.
Built in stone over 3 levels and topped with an asymmetrically shaped slate roof, adorned with numerous windows and several fireplaces, this mansion house exudes all the harmony typical of the 18th century with its perfect balance and reasonable proportions.
With a living area of approx. 450 sqm, it is distributed as follows:
*A full basement cellar, which breathes and is perfectly healthy thanks to efficient natural ventilation and recently completed insulation. It consists of various rooms including a boiler room, water heater, wine cellar and storage room.
*Ground floor: main entrance via a beautiful monumental stone staircase located at the corner of the building, opening onto a vast vestibule (cabochons) with an oak staircase adorned with a remarkable wrought iron railing.
Access to the cellar.
On the right-hand side, large fitted kitchen (piano) /dining room (39 sqm)- floor with cabochons / painted walls.
Recessed tiled scullery (16 sqm) - Access to a lift to the 1st floor.
On the left-hand side, small lounge converted into a study (22 sqm) - herringbone parquet flooring/woodwork + marble canvas/fireplace (not functional) and hunting-themed overmantels. Listed registration of this room (1960).
Direct access to the large lounge (47 sqm) - "Versailles" parquet flooring / period wood panelling / marble fireplace (not functional) / overmantels decorated with painted canvases depicting childhood scenes and deceptively rustic landscapes.
The large lounge is also listed in the supplementary inventory of historic monuments (1960).
The high ceilings average 3.75 m.
1st floor: a landing leads to the left to a lounge/library (35 sqm) with office area - Cisal on floor.
Small bedroom (11 sqm) with toilet (2.80 sqm) - herringbone parquet floor / woodwork / fireplace. Shower-room with independent WC (16 sqm) - tiled floor. Arrival of the lift.
On the right, corridor with cupboards - oak parquet (13 sqm). Bathroom + shower + WC (18 msqm) - tiled.
Large bedroom in the process of being fitted out (48 sqm) - herringbone parquet/woodwork/trumeau/fireplace.
Average height of the floor between 3.13 and 3.18 m.
2nd floor: landing opening onto a corridor leading to the left to 3 bedrooms, one of which has a washbasin.
Shower room with independent WC.
On the right-hand side, corridor leading to a bedroom to be renovated and a large dormitory (48 sqm) to be renovated.
Access to a storage attic.
Average ceiling height of 2.54 m.
The outbuildings consist in:
1) Former stables: situated at the bottom of the garden and consisting of a beautiful stone building with a slate roof, comprising 3 alcoved carriage doors.
The building is divided into 2 separate parts, of 14 and 74 sqm respectively; one is now used as a motorbike and cycle garage (wood burner) and includes a small mezzanine area.
The other is a vast space that can accommodate a maximum of 3 cleverly arranged vehicles. A timber-framed floor could be fitted on the whole, with a height under beams of 3.75 m.
The concrete slab/plastered walls and doors are of recent restoration. Electricity is present.
2) The orangery: situated at right angles to the stables and comprising a brick base topped by a metal canopy and covered with translucent panels. Water and electricity are reserved at the junction of the 2 buildings.
Existing connection between the 2 buildings.
The garden is about 500 sqm and is completely enclosed by high walls. It is divided between paved and gravelled areas, delimiting a lawn decorated with flowers and low plantations. Some fruit trees (apple and pear) complete the vegetation of the place, designed by a certain Philippe Dubreuil, a renowned landscape architect.
A pleasant south-facing terrace adjoining the large living room gives an idea of the rare quality of life that the future happy owners of the property will enjoy.
Cabinet LE NAIL - Lower Normandy - Mr Eric DOSSEUR : +33
Information on the risks to which this property is exposed is available on the Géorisques website :
Ref : NA4-1450 - Date : 19/11/2022
---
DETAILS
Price €851,500
Home type Mansion
City Alençon (61000)
Surface 450 m²
Land surface 500 m²
Bedrooms 7
Kitcken type Cuisine américaine
Parking Garage
---
ENERGY DIAGNOSIS
DPE Energy Efficiency Rating not provided
GES Greenhouse gas emission rate not provided
---
---
CONTACT US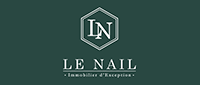 LE NAIL ET ASSOCIÉS
BAT H - RUE ALBERT EINSTEIN
53810 CHANGE
INFORMATION REQUEST
Request more information from LE NAIL ET ASSOCIÉS.